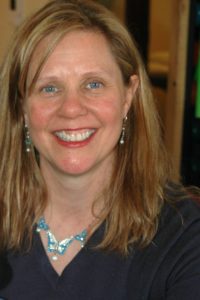 Melinda Halford, PT, MFA, CLT, Cert. MDT  Founder Front Porch Physical Therapy
Certified Lymphedema Therapist
Certified in the McKenzie Method of mechanical diagnosis and treatment
Melinda Halford, PT, CLT, Cert. MDT is a Licensed Physical Therapist with postgraduate specialty certifications in Lymphedema treatment and McKenzie Mechanical Diagnosis and Treatment .
Melinda has 21 years' experience practicing physical therapy and is a life-long member of Phi Kappa Phi honor society. Prior to practicing physical therapy, Melinda taught movement and dance as an artist in residence in North and South Carolina.
With undergraduate degree in Movement Therapy, a Master of Fine Arts degree in Dance and Choreography, and completion of her Physical Therapy Degree and Licensure in 1998, Melinda has a lifelong commitment to helping her patients take control of their bodies while participating in the activities they love. "All people have an innate ability to heal themselves," Melinda said. "A therapist's work is to help you clearly identify the problem through a thorough Musculoskeletal Evaluation, and work with you to resolve your condition through appropriate treatment options. Those options always include self-healing"
Melinda specializes in McKenzie based Care – a mechanical based method of evaluation and treatment of spine and joints, Orthopedic/Sports, Ergonomics/Work Injury and Neurological Physical Therapy, Lymphedema Management, Management of Pain, and helping Sports, Yoga and Dance Students return to their practice without painful symptoms.
Melinda is a certified Lymphedema Therapist and is committed to working with cancer patients and with others who have chronic swelling. This specialized treatment is widely successful in helping people manage all types of edema.
Melinda's true love is helping individuals return to or find their unique niche in movement and self-healing. With her background in dance, yoga, functional movement and fitness training, Melinda helps her patients tap into desired movement therapy whether that is a gentle home management program or return to high level sport, dance, gym program or yoga practice.
Melinda's specialties include:  Licensed Physical Therapist, Certified Lymphedema Therapist (CLT), Certified McKenzie Therapist (cert. MDT) Cancer Rehabilitation, Spinal Care, Orthopedic and Neurological Rehab, Sports Rehabilitation, Ergonomics, Chronic Pain, Therapy for Yoga/Dance Participants, Pediatric / Geriatric PT, Balance and Gait training / Functional Movement specialist